The OAHK shall be governed by the Executive Committee. All EC officers shall be elected biennially at the Annual General Meeting of OAHK. Under the Executive Committee, there are 6 sub-committee composed of members of EC and experienced orienteers that assist the Executive Committee to formulate and implement policy.
Structure of OAHK Executive Committee and Sub-Committee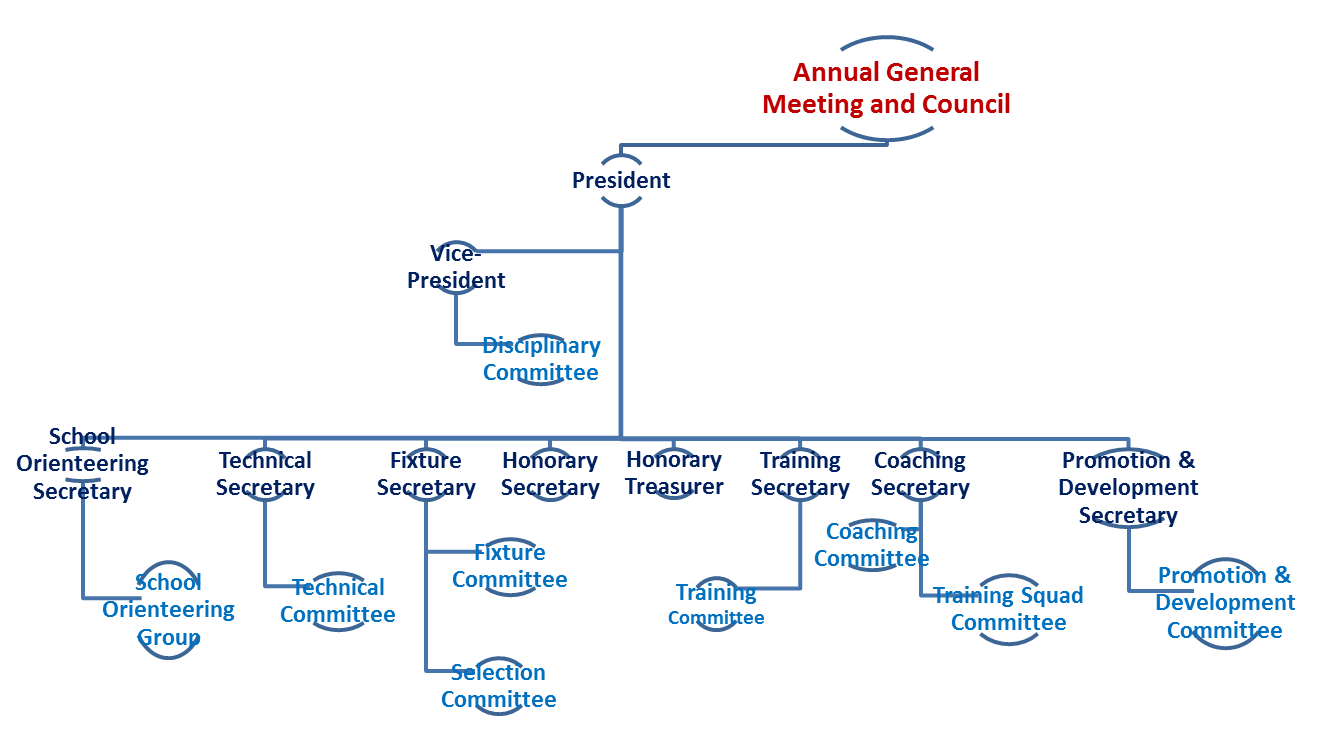 The OAHK Council meeting is held bi-monthly and all members are welcomed to attend.
List of Sub-committee 2019/2021



Selection Committee

| | |
| --- | --- |
| Chairman | Mr. Lau Kwok Sang |
| Member | Mr. Ko Man Fung Francis |
| Member | Mr. Ng Kam Fu Patrick |
| Member | Mr. Man Wai Tin |
| Member | Mr. Sze Chi Sum, Mike |
| Member | Mr. Cheung Kwok Wai |
| Member | Mr. Liang Chi Hang |

Technical Committee

| | |
| --- | --- |
| Chairman | Mr. Hui Ngai Sang |
| Member | Mr. Yue Ting Wang Dominic |
| Member | Mr. Chan Chi Sing, Clement |
| Member | Mr. Ng Kam Fu Patrick |
| Member | Mr. Leung Lam Freddy |
| Member | Mr. Lau Wing Kit |
| Member | Mr. Tam Wing Chung |
| Member | Mr. Lau Kwok Sang |
| Member | Mr. Leung Chi Yan |
| Member | Mr. Ma Lok Hin |


Training Committee

| | |
| --- | --- |
| Chairman | Mr. Li Fuk Lung, Bruce |
| Member | Mr. Sze Chi Sum, Mike |
| Member | Ms. Tang Wai Sum |
| Member | Ms. Chiu Lai Kwan |
| Member | Mr. Hung Ka Mo Maverick |
| Member | Mr. Mok To |

Coaching Committee

| | |
| --- | --- |
| Chairman | Mr. Sze Chi Sum, Mike |
| Member | Mr. Li Fuk Lung, Bruce |
| Member | Ms. Chiu Lai Kwan |
| Member | Mr. Man Wai Tin |
| Member | Mr. Chan Chi Sing, Clement |
| Member | Mr. Mok To |
| Member | Ms. Tang Wai Sum |
| Member | Mr. Chung Tsz Kin |
| Member | Mr. Ng Kam Fu Patrick |
| Member | Mr. Ko Man Fung Francis |
| Member | Mr. Lee Man Wai |
| Member | Mr. Leung Lam Freddy |

Promotion and Development Committee

| | |
| --- | --- |
| Chairman | Mr. Hung Fan Tai, Barry |
| Member | Ms. Chan Sau Mei |
| Member | Mr. Chu Kam Hung |
| Member | Ms. Lee Wing Sum |
| Member | Ms. Li Lai Kuen |

School Orienteering Group

Chairman

Mr. Ng Ka Sing

Member

Mr. Kwok Kin Kwan

Member

Mr. Chan Chi Sing, Clement

Member

Mr. Ng Kwok Fung

Member

Mr. Wong Man Wa

Member

Mr. Ng Kok Hei

Member

Mr. Wong Hung On

Member




Mr.

Tse Lok Hin




Trail Orienteering Committee

Chairman

Mr. Chan Chi Sing, Clement

Vice Chairman

Mr. Cheung Kwok Wai

Member

Mr. Liang Chi Hang

Member

Mr. Yuen Wang Ki

Member

Mr.

Yeung Ronald Man Ho

Member

Mr. Ng Kwok Fung

Member

Mr. Ng Ka Sing